For small to medium homes
Handles 3-4 things at the same time.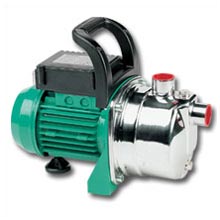 Our Grundfos pumps are switchable between 115 vac and 220 vac.  These pump systems often go on a small slab outside the tank preferably in a pump shed. The pump, pressure tank, hose bib and gauge are usually plumbed with PVC or can be welded up with rigid copper pipe. While these pumps are very reliable they require a shed or other weather protection. Meyer pumps are available at similar pricing.
Every complete Eco Single Pump System includes these components:
One Grundfos Stainless housing 3/4 HP water pump.
Lead free stainless steel adjustable/rebuildable CSV (Cycle Stop Valve)
Pressure switch controller 30/50 psi with dry run protection
Check valve and 0-100 gauge
Non corrosive lined Pressure Tank

Installation kit

(Optional See Below)
Installation Kit: 1.5" PVC ball valves and unions coming and going, manifold for gauge, controller, hose bib and pressure tank, all fittings and as pipe to and from the pump to stub outs at both the supply and output sides of the pump system. Does not include tie in piping from the water tank or to the house or the electrical hook up as those items depend on layout of each situation which varies.
Single install kits go up to $155 (Dual install kits up to $310) on every single pump system.
Price $985 | With Installation Kit $1140
Available Upgrades
DC Pumps: Special order pumps low voltage DC pumps are available in 12 and 24 VDC).
Very High pressure pumps. We  offer 1.5 hp and 2+ hp pumps in 230 VAC and other controller systems for special situations and needs.
Ultra Efficiency pumps:  All stainless 115vac Stay-rite multi stage high efficiency pumps (offer higher volume and pressure then the Grundfos "jet type" water pumps at the same power use).
Pressure Tank Options: Small Stainless Steel pressure tanks and larger fiber wound pressure tanks
CSV Options: Stainless Steel CSV (cycle stop valve) offers a wider range of  pressure adjustment
Alternating pump Operation: Digital pressure controllers with a Master controller that operates the A pump then the B pump alternately and operates either pump if the other has any problems.
Larger Capacity Pipe systems are available for higher volume pumps. Rigid copper welded systems are available.