Eco Products Maui supports Aquaculture and Aquaponics with economical and durable HDPE Products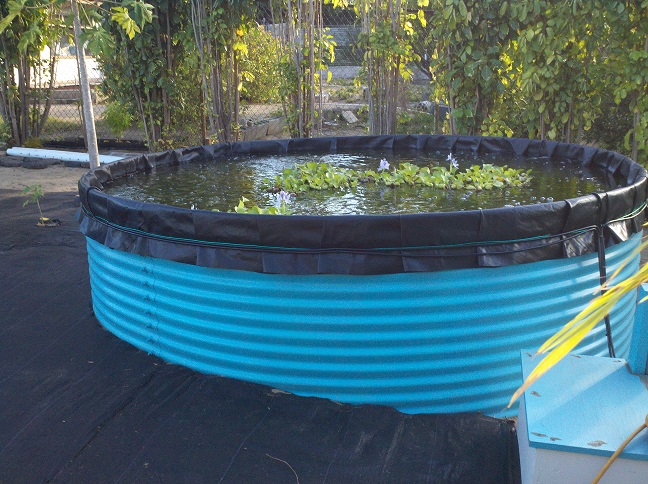 HDPE Water Tank Liners:
The liners are custom made from high density polyethylene. HDPE (high-density polyethylene) is FDA and NSA approved for drinking water and is very resistant to UV damage. Unlike conventional vinyl, HDPE does not shrink or get brittle and crack over time. The molecules in high density polyethylene fabric are tightly knit which has the advantage of light weight relative to strength. Black HDPE liners are much more resistant to sun damage and remain more flexible over time then single layer low density fabrics like vinyl whose molecules create taste and smell in the water. With HDPE, is there no "molecular transmigration".
Our patented, reinforced HDPE tank liner fabric is exceptionally strong because it is made like plywood with layers in opposite directions. For the 6′ and taller water tanks, we use a fabric  that includes a mesh layer of nylon every 1/4″ in both directions which substantially increases the burst and tear strength. HDPE liners have exceptional durability and commonly have a service life of 15-20 years in Hawaii.
The Eco Products Maui product line is based on several HDPE and one mixed layered product. We have lining troughs and solid tanks with a few layers of strong UV resistant HDPE at 12 + mil. We have multi-layered pure HDPE liners that are strong on their own and work with simple wire frames.
The thicker multi-layered fabric is 22 mil and is layered up like plywood for much better tear strength then single layer fabrics of the same thickness. We can supply any dimensions of flat sheets or cylindrical liners in heights such as 4' for aquaculture tanks. We've supplied rolls of the thinner HDPE for troughs and tanks that are stable wood based for aquaponics projects.
HDPE is the best plastic available for fish since there is no taste or smell of vinyl plastic in the water. HDPE is approved for certified organic projects. Aquaculture tanks are available.
Contact us with your Aquaculture or Aquaponics project ideas and needs.
Here are some sample prices of tank liners supported by a 44" row of heavy 18 gauge galvanized steel water tank frame.
The metal frame will last 40+ years if properly painted. HDPE liners have lasted 12 to 20 years.
With a premium mesh cover to completely enclose these tanks, they could be utilized for domestic water supply systems.
Aquaponics Grow Bed Troughs
Eco Products Maui supplies grow beds in any size. We have 7′ x 30′ 22 mil black HDPE for $137 on Maui.
Aquaculture Tank Pricing:
All prices include all galvanized steel and galvanized hardware and a multi-layer pure HDPE liner. All are one panel high, so very easy to set up or move. The only hardware are the vertical rows between each sheet.
9' x 44" = $945 and holds 1,739 gallons
12' x 44" = $1,250 and holds 3,060 gallons
15' x 44" = $1,610 and holds 4,738 gallons
18' x 44" = $1,950 and holds 6,800 gallons
22' x 44" = $2,315 and holds 9,240 gallons
24' and 27' x 44" are available on request
Metal takes about one + week for delivery these prices do not include freight or accessory items, HDPE Liners take about one month to deliver if we do not have the size you want in stock.
The smaller aqualculture tanks are in stock most of the time but require mulit units to be shipped economically in most cases.